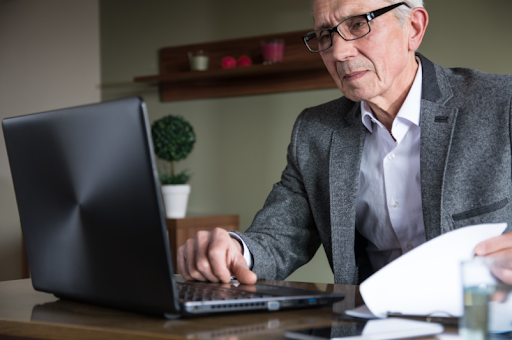 Guest article provided by: julacreative.com
Now is a great time to be a senior entrepreneur. In fact, it has become increasingly common for older adults to own their own business, with the rate of senior business owners steadily increasing for over 20 years. But even if you have a great business, it won't truly thrive unless you know how to market it. With technology more present than ever, it's also key to know some digital marketing basics to give your business the best chance at success. Below are some marketing basics for senior entrepreneurs.
Marketing basics for senior entrepreneurs
Keep social media updated

Pay attention to customer reviews

Research your competitors

Send out enticing and eye-catching emails
Keep social media updated
Some senior entrepreneurs may find social media daunting, but it's crucial to have an online presence these days. There are about 3.78 billion social media users around the globe, and that number continues to grow. And people don't only use social media to stay connected. About 70% of customers search for products via social media.
You can begin by getting familiar with the most popular platforms, like Facebook, Twitter, Instagram, and Snapchat. Although they're all social media platforms, they're all slightly different. For example, Facebook is a great place for targeted ads since you can ensure an ad is seen by a certain age, gender, and location. On the other hand, Instagram is a great place for pictures. You'll want to figure out which platforms will be the best fit for your business.
Once you create social media accounts for your business, your work is not done. Always make sure your social media stays updated. This means that if something about your business changes, you need to also update your social media accounts. Also, regularly post new content. You can create posts for new products or upcoming sales.
Pay attention to customer reviews
People pay attention to online reviews. When people leave you a positive review, it shows that you have a quality product, so a lot of positive reviews will help you attract more customers. It's also important to engage by responding to customer reviews, so make it a point to respond to every review.
You can also encourage existing customers to leave reviews through social media or email. As we learned in the last section, social media is important, so a social media post is a great way to ask for a review. Make it easy for customers by including a link in the post, so they can follow the link and easily leave a review in a few clicks. Emails can be just as easy too! You can keep your emails short and sweet by asking for a 1-10 rating, or write a bit of friendly copy asking for a review.
Research your competitors
One thing we always do with every client that comes onboard is learn about their business and dive deep into their competitors. There are so many ways to do this, but here are a few.
Research the social media platforms your competitors are using.

Use different SEO tools like SEMrush or Ahrefs to see what keywords your competitors are ranking for. This will help you figure out the types of keywords you should target for your blogs or webpages.

Research what they're doing to bring in customers, then compare it to what you're doing. If your technique isn't working, you may benefit from trying out what your competitor is doing, especially since you're already targeting the same kind of customers.
Send out enticing and eye-catching emails
Email marketing is widely used, and for good reason. It's one of the best ways to quickly reach a large audience, so you'll want to know how to create great emails. It all starts with a subject line that will entice people into opening the email. Discount offers are a good start, but there's much more that you can do. You can try something catchy, funny, or even personalize the subject line with the recipient's first name. For a more deep dive into email marketing strategy, read more here: Email Marketing Tips For Effective Campaigns.
Once the subject line is created, there's a lot more that goes into making a good email. For now, we'll stick to some basic tips.
Make sure the copy inside the email is concise and easy to read. People may only spend a few seconds skimming your emails, so keep it short.

Think about the design. There's no need to stress too much about this since there are plenty of pre-made email templates available.

Always include a CTA, or call to action. If you want people to purchase a product, your email should have a clearly visible CTA button that enables people to easily click on it and buy the product.

Send yourself a test email before sending the email out to your entire list. You never know what you'll catch!
Conclusion
More and more seniors are starting their own business. Senior entrepreneurs can be every bit as successful as young business owners. In fact, extra life experience may give you an edge. Even the best business needs marketing, so keep these tips in mind to give your business a boost. Not sure where to get started? Contact us at Jula Creative and we'd be happy to help and answer any questions you have. Just email us at [email protected] Good luck with your endeavors!